Your Lobby is the Gateway to Your Business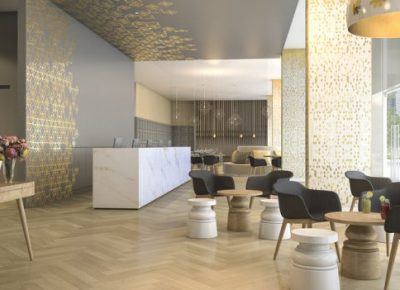 As every business owner knows, your lobby is the gateway to your business. No pictures in brochures or images online can truly capture the feel and impression that being in your office for the first time makes. If your building's lobby or reception area seems poorly arranged, doesn't efficiently make use of space, or features drab or worn furniture, it could make the difference in winning or losing a client or top hire.
When potential clients, interviewees, or staff enter…and exit…your building, they should be greeted in a lobby with a sharp, professional appearance that speaks to organization and comfort…and immediately feel positive about your company culture. That first and last impression every time a visitor is in your office couldn't be more significant, and it's worth the investment to put your best foot forward. The arrangement of your lobby's chairs, desks and tables is important too…a lobby should easily enable the flow of traffic both in and out of the building.
Let us design your lobby to win the right first impression. At Bellia, we create ideal lobby and reception areas that are both pleasing to the eye and functional for visitors and staff. We have relationships with over 200 furniture manufacturers, and we can design and furnish your lobby with colors and styles that reflect your company's brand identity.
Our design team will work with you from start to finish, enabling you to make any changes as needed. We'll work with your business goals in mind…attracting new hires, winning clients, and offering a comfortable, inviting space to visitors. You and your staff will love your ergonomically friendly lobby space, and we'll make sure it provides a return on your investment too.
We understand as well as you do that your lobby is the gateway to your business. Contact us today or click here for a free workspace evaluation.