Why Ergonomic Office Chairs Are Important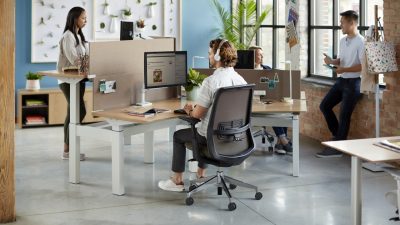 If you operate an office full of employees who are sitting most of the time, it's probably crossed your mind why ergonomic office chairs are important. What you may not be aware of is that there is a real science to sitting over long periods of time and how it affects employee performance and morale. When someone's body is supported properly for sustained periods of time, they feel physically healthier, and their job satisfaction improves.
Our partners at Haworth® have published a more detailed ergonomics guide for office employees, which you can download and review from the link below. Just briefly though, here is why ergonomic chairs are more important than you might think.
First, there is the consideration of long term health. Using an insufficient office chair over a long period of time…often many years…can lead to back and neck injuries, as well as affecting shoulders and even legs. If a chair is poorly designed or simply uncomfortable, that can lead to bad posture and slumping, which in turn puts stress on the spine and can cause health problems over time.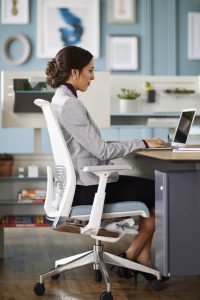 A comfortable and well-designed office chair can not only minimize injuries and long term effects, it can also improve productivity. Being uncomfortable in a chair is a distraction and often stressful. When an employer invests in comfortable chairs for their employees, they're not only helping employees be comfortable and productive, they're also helping to avoid future absences and health care costs from long term spinal and other deterioration.
Find Out More About The Importance of Ergonomic Office Chairs
In addition to the downloadable ergonomics guide you can find below, the professionals at Bellia are happy to meet with you and show you the difference that well-designed and comfortable office chairs can make for your business.
Let us tell you more about why ergonomic chairs are important to your employees! Reach out to us today, and ask us about the many options we have for furnishing and designing your office, for maximum comfort and productivity. We'll help you love the space you're in!
Source: https://www.haworth.com/na/en/knowledge/research/well-being/ergonomics.html?icid=homepage|subfeature2|ergonomics