Designing Workspaces for Inclusion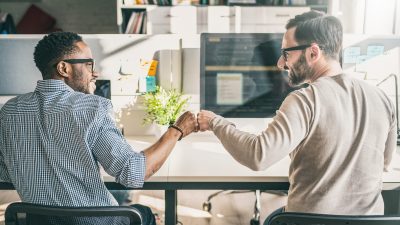 For businesses thinking about designing workspaces for inclusion, Bellia is on the forefront for making the transition seamless. With workplaces being redesigned and re-imagined, Bellia continues to incorporate your corporate goals into a workplace design that will best suit your company.
You may not realize it, but workspace design can speak as its own language, conveying information about culture, norms, and commitment to well-being. Some people understand the language and make their way around the space without much difficulty or stress. These employees can locate other people and the resources they need to work effectively. This is called the "legibility" of the workspace. Legible spaces include a floorplan that can be easily navigated and understood by all. When a space is "illegible", the space can unintentionally reduce inclusion and equity for some groups. Illegible space sends a subtle message that says, "You can use this space, but it really isn't for you", which can lead to potentially damaging higher stress levels for some groups.
Tips to Designing Workspaces for Inclusion
No work area can be completely perfect, but it's important to consider as many needs as possible with a collaborative design process that brings employees in as consultants on making a good space great.
Using universal or inclusive design concepts can help everyone contribute fully and thrive. Some of these include:
Providing choice in spaces and tools
Eliminating unnecessary complexity and manipulation of items in the workspace
Arranging tools, reference materials, and information based on importance
Using pictorial, verbal, or tactile presentation of essential information
Providing a variety of techniques or devices used by people with sensory limitations
Arranging elements to eliminate physical hazards and barriers
Providing warnings of potential hazards and failsafe features
Ensuring tools can be used efficiently and comfortably with minimum repetitive actions and physical effort
Providing a clear line of sight to important elements and keeping tools within reach of any seated or standing user
Providing adequate space for assistive devices or personal assistance
It's important to maintain the same sense of cultural inclusiveness and personal worth people would get from remote workers' office environment. Some things that can help people feel like they belong while working remotely include:
• Ensuring everyone has the technology they need to collaborate and keep in touch
• Subsidizing home office furniture
• Setting norms among colleagues to have regularly occurring virtual touch-base meetings or check-ins
• Scheduling time for casual conversation and catching up
To learn more about the benefits of designing workspaces for inclusion, click here.