Collaborative Lounge
---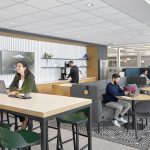 There have been remarkable innovations in office design in recent years, especially as the pandemic created a need more hybrid-oriented positions. That said, there are still challenges to overcome. Most companies require a level of collaboration among employees, and they create specific spaces for doing so. In other cases, a certain amount of interaction is […]
Read More....
---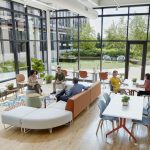 As technology enables us to host meetings where virtual attendance is almost always an option, we're learning that virtual meetings aren't always the most effective choice. As a result, companies have been starting to focus on creating hybrid collaborative spaces in the office. The technology of Zoom meetings and virtual attendance makes it possible for […]
Read More....
---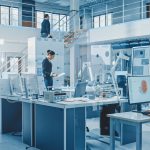 What does the future of office space design look like? It's an interesting and sometimes difficult to answer question. With the world changing in so many ways and businesses adapting to changing needs, office design will require adaptation as well. This article from the Haworth® blog goes into some details about five themes that will […]
Read More....
---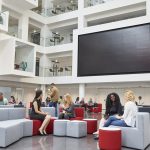 Designing spaces for higher education in 2021 is a very different animal than it was not very long ago. The competition for top academic talent in universities is much greater, and students are going to be looking for a variety of advantages and comforts involved in attending an institution. As a result, colleges are making […]
Read More....
---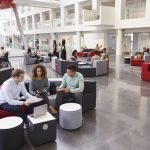 With many workplaces offering remote and work from home environments, there is still often a need for additional space for collaboration, meeting and gathering. While employees are still working remotely and not physically attending meetings as much as in the past, multi-purpose rooms are coming back in the form of what is called "Third Places". […]
Read More....
---
Invalid Displayed Gallery Download PDF Haworth Tulip Information Wanders' Tulip Armchair is an important product, but fresh and happy, a reinterpretation of the lengthened and oversized dimensions of the classic armchair. Mimicking the stem of a flower, a shiny revolving base in natural aluminium varnished metal provides support.
Read More....
---
Invalid Displayed Gallery Download PDF Window Seat Information The dynamic Windowseat by San Francisco design team Mike & Maaike offers visual privacy in the busiest environments. A lounge, with or without canopy, and ottoman pieces form a set of furniture fit for airports, lobbies, public spaces, and more. Molded foam over steel frame; offered in […]
Read More....
---
Invalid Displayed Gallery Haworth Openest Information Openest bridges the concepts of experience and environment, giving rise to warm, inviting spaces to gather, share ideas or simply relax. Brought to life by Patricia Urquiola and Haworth, at the core of the Openest Collection are unexpected yet familiar lounge furnishings that set the tone for thoughtful connection […]
Read More....
---
Invalid Displayed Gallery Download PDF Haworth Harbor Work Lounge Information Part task seating, part lounge chair, Harbor Work Lounge offers the support people need to be productive, while making a stylish statement wherever work gets done. Designed by Nicolai Czumaj-Bront of the Haworth Design Studio, Harbor Work Lounge was created for how we work and […]
Read More....
---
Invalid Displayed Gallery Download PDF Haworth Collaborate Information An urban-classic meditation on seating, Collaborate is both sophisticated and practical. Bridging the worlds of residential and commercial design, Collaborate is a powerful statement piece in any setting. Place a roomy lounge chair in the reception area or a slimmer version in offices to ensure a strong, […]
Read More....
---