The Future of Office Space Design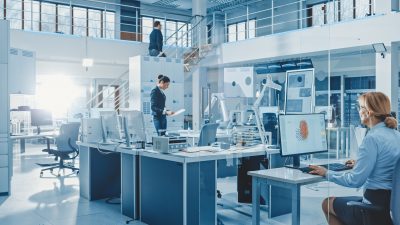 What does the future of office space design look like? It's an interesting and sometimes difficult to answer question. With the world changing in so many ways and businesses adapting to changing needs, office design will require adaptation as well.
This article from the Haworth® blog goes into some details about five themes that will influence the future of office design: immersive technology, restorative spaces, shifting of space, increased collaboration, and increased human emphasis.
Immersive technology refers to using all of the aspects of virtual office technology to maximize the value and welcoming nature of space, including taking advantage of Internet of Things (IoT) technology.
Restorative spaces are places where employees can unplug and take a break from the flow of the workday. In the future, this will be seen as increasing in importance, especially as there is greater demand for restoration for employees.
Space shift refers to the replacing individual work stations with more spacious, flexible group spaces. As more employees have the ability to work anywhere, group collaboration will become more of an office space priority.
Increased collaboration means, in addition to more space for group interaction, that office spaces will focus on connections and culture among the employees.
Increased human emphasis means a greater focus on hospitable and welcoming office spaces, and employers placing focus on employee health for greater productivity.
In summary, the future of office space design is likely to be focused on the advantages of remote working ability, and using the opportunity to create a more welcoming space for employees and enhance group collaboration. As companies move into the 2020s, it is likely that we'll see a whole new atmosphere in the workspace.
Ask Us About YOUR Future Office Space Design
If you're interested in taking advantage of your office space and how you can make the most of your office collaboration in the future, reach out to Bellia Office Design! We can help you maximize your space, take advantage of new technology, and create an office that you and your employees will love. Click here for your free workspace evaluation today!