Multi-Purpose Rooms Are Coming Back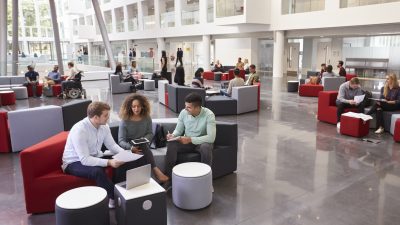 With many workplaces offering remote and work from home environments, there is still often a need for additional space for collaboration, meeting and gathering. While employees are still working remotely and not physically attending meetings as much as in the past, multi-purpose rooms are coming back in the form of what is called "Third Places". A Third Place offers an ergonomically friendly and pleasant alternative to both the home and the workplace for employees to collaborate.
The "Third Place" – Why Multi-Purpose Rooms Are Coming Back
This fascinating article from the Haworth® website describes the purpose of the Third Place and how several of them across the globe are designed. Outside entities have taken the time to survey employees, adopt feng shui methods of color and style of room arrangement, and offering a hospitality level that inspires employees to escape the cabin fever of their home.
In Haworth's own example of a Third Place in an office building in Cambodia (called "The Atom"), they assembled an "Ideation" team to discover how best to support differing work styles and collaboration needs within the Third Place. Three rooms were designed to maximize the use of space, color and hospitality offerings. The furniture in all three rooms of The Atom are specially designed to allow for flexibility to support both work meetings and events.
As the world changes rapidly, so does the location of where we work. Multi-purpose rooms are coming back in a whole new way…a separate gathering Third Place that is designed to be inviting and enable workers to leave their home and enjoy a change from their usual environment.
If you'd like to know more about the design of Third Place and how to create your own flexible and inviting meeting space, reach out to Bellia Office Design today. We are a licensed Haworth® furniture dealer, and we can create beautiful, stylish, and effective office designs that provide a true return on your investment!