Creating Hybrid Collaborative Spaces in the Office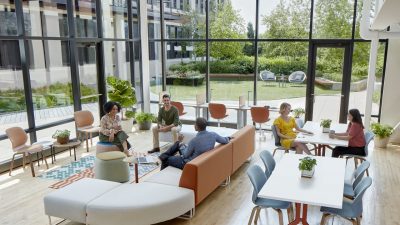 As technology enables us to host meetings where virtual attendance is almost always an option, we're learning that virtual meetings aren't always the most effective choice. As a result, companies have been starting to focus on creating hybrid collaborative spaces in the office.
The technology of Zoom meetings and virtual attendance makes it possible for people to collaborate with the team without leaving their home or office desk. But there are a number of problems with this that aren't plainly obvious at first glance. For one, there's potential technology troubles, such as equipment not working or employees forgetting to put on the mute button. But there's also a deeper loss of connection without in person collaboration too.
As employees become increasingly remote and removed from physical attendance, the social network starts to break down. People have fewer "off the record" interactions and conversations, and as a result, share fewer ideas. With online meetings, there is a smaller social component, and there is a greater possibility of "groupthink" taking over the gathering.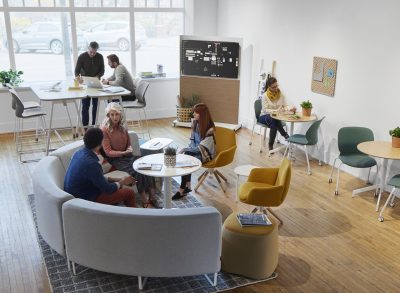 So what can companies do to create hybrid spaces to encourage more interaction? As the article in the link below points out, they first should define a space and what it's meant for, as in social connection or information sharing.
A company should design that space accordingly, with furniture and lighting that enables team members to interact effectively, both with people in the room and on video screens. Privacy is a concern too; companies should encourage interaction while respecting members' privacy and avoiding distractions.
Ideally, as more and more employees seek to avoid commutes and spend their work time remotely, there needs to be a focus on encouraging their presence, or at least, to help remote employees feel as involved with the company vision as possible. Creating hybrid collaborative spaces in the office, when done properly, can encourage more effective interaction and social relationships, and ultimately help the team function better.
Interested in Improving Collaborative Spaces in Your Office?
If you'd like to find out more about what we can do to help make the most of your collaborative spaces, reach out to the Bellia office design team today! We've helped businesses of all kinds make the most of their office space with top quality furniture and design, and we can do the same for you. Let us help you love the space you're in!
Source: https://www.haworth.com/na/en/spark/articles/2023/q1/4-considerations-for-creating-hybrid-collaborative-spaces.html