Designing Spaces for Higher Education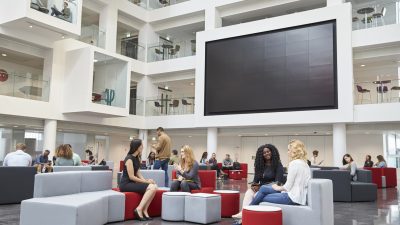 Designing spaces for higher education in 2021 is a very different animal than it was not very long ago. The competition for top academic talent in universities is much greater, and students are going to be looking for a variety of advantages and comforts involved in attending an institution. As a result, colleges are making adjustments and attending to a new list of student needs.
This article from the Haworth blog details seven design elements that are directed at attracting higher education students. They include a warm and welcoming atmosphere; ease of collaboration; flexibility to work anywhere; easily adjustable classrooms; and a focus on spaces that are ideal for comfort, relaxation and focus.
The piece goes into detail about the arrangement of university lobbies and socializing areas geared toward the type of student they hope to attract. As one example, it cites the College of Aviation at Western Michigan University – prospective students are greeted by aviation student ambassadors, and the rooms feature expansive windows and aviation graphics.
The piece also discusses an idea that at first glance seems paradoxical – the importance of enabling work from anywhere technology, while at the same time encouraging collaboration. The piece mentions the Watt Family Innovation Center at Clemson University and their innovative use of space in corridors, and the arrangement of the social space in "The Hub" at the Donald W. Maine College of Business at Davenport University.
In describing each design element, the focus remains on what a university can do to make life better for the student, and enable that student to meet the demands of higher education. This includes lobby, cafeteria, lounge, and classroom design that is geared to maximum comfort and focus. The result is an improved experience for both students and faculty.
Ask About Higher Education Spaces Design
If you're interested in finding out more about how Bellia works with educational facilities, and how we create more functional and workable space designs, reach out to us today and tell us about your own needs. We're happy to offer you our ideas for designing spaces for higher education!