Investing in Natural Spaces for Your Employees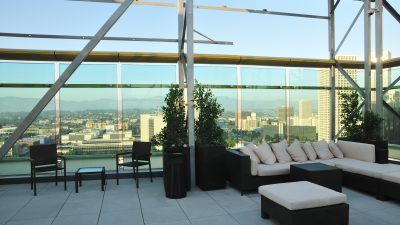 With so many employers looking to attract top talent today, especially eager young millennials, investing in natural spaces for your employees is one of many ways to promote an attractive and positive working environment. And in addition to being a selling point for working at your company, natural spaces offer great potential for return on your investment.
This recent article from Haworth® discusses the value of building parks and functional natural outdoor spaces for employees. It gives a mention of Apple Park in Cupertino, an intricate design that offers 176 acres of landscape where there was once asphalt, with the parking garage dug out underneath. The article also discusses Facebook's building of a nine acre park around their facility, as well as a landscaped rooftop at their headquarters.
These beautiful scenes of greenery and landscape aren't just a new and greatly improved space for employees to work outdoors, or to take a simple break and return to the office in a better frame of mind. Those things are important, to be certain, and are proven to make a difference in employee productivity.
But Haworth® also mentions its own efforts in creating a walkable green roof at its own headquarters, and the impact it has had…not just on general employee wellness but on their reduced costs of upkeep and general maintenance of the rooftop. The new green rooftop also helps to protect the building itself from the elements, and contributes to LEED credits for the company.
The benefits of investing in natural spaces for your employees go beyond attracting and keeping top young talent. Green spaces around and even in your building also contribute to a cleaner future, reduced carbon footprint, and even possibly reduced costs of common maintenance functions. As both larger and smaller corporations are proving, when done right, natural spaces can be well worth the investment.