How to Support A Work From Home Model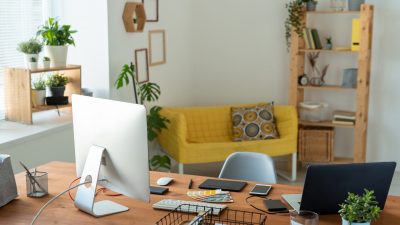 As we all know by now, recent world events have caused a great increase in employees working remotely, often on a full-time basis. The situation has reached a point where the ability to work from home is a key component of a job offer. With the office situation everywhere changing so rapidly, employers have had to adjust their offices and have had to learn how to support a work from home model.
This article from Haworth® gives a few examples of how several law offices have changed their office layouts to adjust to these needs, using Haworth's help. While it is by no means unique to law firms, attorneys are one example of a profession where working from home can be highly conducive to better productivity…more comfort, fewer distractions, and more flexibility for employees who no longer have to commute.
As the article notes, companies with office space geared to a previous situation can now see this new reality as an opportunity, rather than an unnecessary overhead. In addition to seeking office design companies that can outfit homes with ergonomic desks and chairs as an incentive to attract employees, they can now redesign their office spaces to expand their capabilities.
One example is Warner Norcross + Judd, a law firm that actually reduced the size of their private office space to expand outdoor spaces, and created temporary work zones for people in partially remote positions. The ideas made for more attractive collaboration spaces, and an improved ability for employees to gather, socialize and accomplish more as a team.
Another option now available to business owners is the opportunity to convert unused office space into event space…where the company can not only hold its own promotional events, but also to host events for other companies' and non-profits' events.
The new challenge of how to support a work from home model offers a great opportunity to businesses who have found themselves with less used office space. More attractive collaboration, promotion, and employee incentive possibilities are available to companies that can make the most of their office space.
Call on Bellia To Support Your Work From Home Initiative!
If you'd like to find some ideas about how you can support a work from home model for your employees, reach out to Bellia Office Design today. We've remade offices, lounges, event spaces and more to maximize office space and productivity, and we can do the same for your business!