How To Compliment Your Company's Brand With Office Design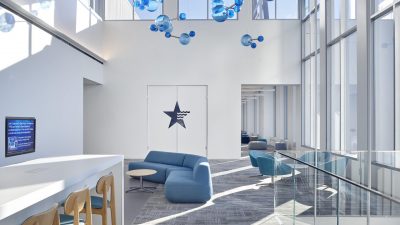 If you're considering an office redesign for your business, you should be thinking about how your company's brand is represented. When customers, visitors, employees and prospective customers and employees visit your office, what are they seeing? Are they seeing an office that creates a visual image of your company's values? Are visitors and daily occupants reminded of your company's contribution to the community?
Office design or redesign is a fantastic opportunity to complement and enhance your company's brand and image. It can be done in multiple ways, including:
Showing Your Values.
If your company places emphasis on creativity, why not reflect that in your office design? Create an office that imaginatively uses your colors, logo, slogan, and mission statement, along with collaborative spaces and modern ergonomically friendly furniture. Your office design should not only create a positive impression on visitors and customers but also serve as an inspiring and motivating space for your employees.
Using Your Company's Brand Colors.
Give your office space your brand's colors, with painting, décor, graphics and other images reminding visitors about your company and what you do. Your brand colors help to create a strong visual presence and personalizes your office space.
Reflect Your Community Presence.
Your modern office space should reflect your company's place in the current environment…focusing on your sense community, teamwork, collaboration and commitment.
Employee Experience
An office redesign should also prioritize the well-being and productivity of your employees. Consider creating spaces that foster collaboration, innovation, and a positive work culture, while aligning with your brand's aesthetic and values.
Find Out More About Reflecting Your Company's Brand With Office Design!
At Bellia Office Design, we redesign office spaces with both efficiency and visual appeal in mind…and we can help you with an office design or redesign that makes the most of your space and with visual elements that uniquely represent your company's brand. Reach out to us today for a free workspace evaluation and let us show you how you can love the space you're in!