Returning to Work After the Pandemic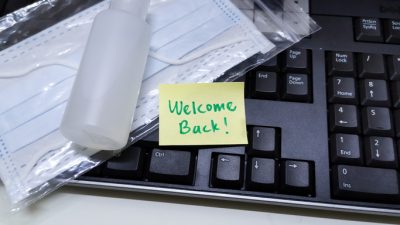 Businesses are doing their best to stay prepared as they plan for employees returning to work after the pandemic. Part of that preparation involves creating a space for employees that makes them feel comfortable while still productive. At Bellia we are used to being a reliable helping hand for businesses that aims to build a better work environment. With new studies and data from HAWORTH, we've been able to combine the safety measures needed with desired productivity for an optimum workspace design.
For almost 50 years, it's been our mission to deliver workspaces that you and your staff will be proud of, and that will increase workplace satisfaction, productivity, and ultimately your success. Our focus has always been on functionality, productivity, and team satisfaction. As we all adjustment to the ongoing circumstances, our friends at Haworth have been able to identify three critical areas of focus to help navigate the return to the workplace in a COVID-19 environment:
(1) Employee Well-Being
Supporting people's physical and psychological health to build confidence and enhance performance.
(2) Organizational Culture
Understanding and preserving your culture to empower your workforce and leverage your space in new ways.
(3) Transforming the Floorplate
Addressing facility requirements, density, and exposure while mitigating risk.
Bellia creates organic spaces that help you balance the needs of your people and space as we navigate returning to the workplace. Part of that organic blueprint is creating a solution that ensures people perform their best, supports your culture, and leverages existing products, enabling you to reconfigure with ease and reduced cost.
There's a balance to remote work for safety purposes and in-person congregations. Living in the digital age has allowed many organizations to embrace remote work and the alternate ways of meeting that pandemic forced upon all of us. At Bellia, we believe remote work guidelines should balance personal interaction and collaboration—both virtually and physically.
Through all these changes, we want to keep the different culture variables of your workplace intact: Collaborate, Create, Control, and Compete. Returning to work in the new normal will involve careful consideration for each of these for C's.
Collaborative culture involves a collective understanding that the changes will not be easy, but the transition is for the best. Creating this culture involves doing new things like embracing alternative ways to get work done.
Control culture involves doing things right, with a sense of security, and creating a system that seamlessly bridges different work settings.
Compete culture will have everyone doing the new things now, adjusting to the new standards with those struggling to identify where they lack and adapting to change.
To learn more about how our collaboration with Haworth is helping businesses adjust as they plan returning to work after the pandemic, download our free guide.