New Trends in Healthcare Facility Design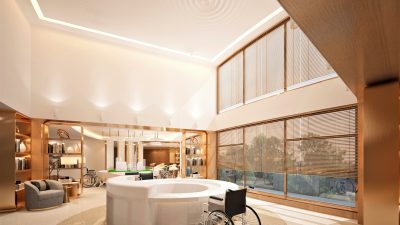 As the world adapts to creating a cleaner and healthier environment, one part of the ongoing process is new trends in healthcare facility design. As it turns out, office and interior designers can have a greater impact on the environment than they probably realize, and the design of a new or existing healthcare facility can make a world of difference in its carbon emissions.
This article from our friends at the Haworth® company goes into some details about ways that healthcare facilities can become more efficient and reduce their carbon footprint through building arrangement and design. Probably the most key factor is the ability for both employees to work remotely, and for patients and doctors to conduct virtual appointments…reducing the need for excessive facility space.
The article stresses three strategies when it comes to building a facility: build nothing, build less, or build clever.
Building nothing means taking advantage of the ever-improving ability for employees to work remotely, and repurposing existing structures as specialists' offices, outpatient service areas, or outright leasing. The result is no new construction, which often results in waste.
Building less means maximizing available space and reducing the need for excessive space. As the need for outpatient services continually declines, a facility can make more effective use of its existing space without having to put an addition on the property.
Building clever means anticipating the need for changes in services in the future. Designers can create areas and offices that are easily adaptable to changing environments, such as through modular construction and thoughtful placement of elements like entrances and trash receptacles.
These ideas and more are helping healthcare facilities not just reduce their environmental impact, but also to make the most cost-effective use of their costly space.
Find Out More About New Trends In Healthcare Facility Design!
Reach out to Bellia today if you'd like to find out more about how we can design or redesign your healthcare office and work facility. We can help you create an environment that maximizes your space, improves your productivity, and reduces your carbon footprint. Let us help you love the space you're in!