Helping New Moms In The Workplace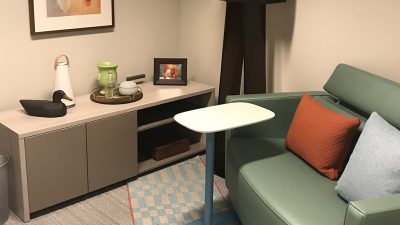 As offices continue to retool and make the most of their space, and as companies continue to strive for inclusion, there is a growing number of companies that are finding new ways to attract and keep top talent in every demographic. This includes working mothers, especially new mothers, as companies are designing spaces in the office for mothers to nurse their young children.
As a recent article from Haworth® pointed out, the U.S. Department of Labor conducted a study that showed that 58% of women with children under the age of 1 are still a part of the workforce. While there is still a sizable amount of employees working remotely, sometimes it isn't possible…say, if someone works with classified information in a closed area…and so companies are doing what they can to accommodate working mothers.
This new accommodation includes nursing rooms…private spaces where mothers can safely and privately retreat and care for their young baby. Spaces can be designed for convenience and comfort, including adding lockers for pumping equipment, waste disposal units, sinks, wipe-able fabrics and more. Rooms can be furnished with comfortable seating, adjustable lighting, and aesthetically pleasing artwork.
For a mother to balance a career and a new baby especially is profoundly challenging. Anything an employer can do to assist with that balance will be a useful edge in helping to keep their best professionals not only productive, but comfortable and stable too.
Interested in Helping New Moms In Your Office?
If you'd like to find out more about offering spaces for new mothers in your workplace, and how you can help your best employees achieve ideal work-life balance, reach out to the office design pros at Bellia! We'll be happy to meet with you and discuss ideas, transformations, and redesigns of your office space, and how to make the best of it for all of your employees.
Click here to request a free workspace evaluation, and let us help you love the space you're in!
Source: https://www.haworth.com/na/en/spark/articles/2019/how-to-create-spaces-that-empower-mothers-in-your-workplace.html