Bellia Enterprises 45th Anniversary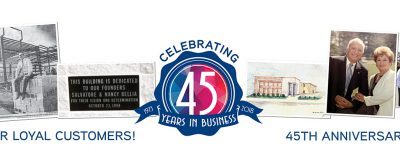 45 years ago today, Bellia Enterprises was founded by Nancy and Salvatore Bellia in October of 1973. The Bellia's purchased a small printing company in Woodbury, NJ, where our headquarters still are today.
Initially, Bellia Enterprises just offered printing services and sold office supplies to the residents and small businesses within the South Jersey community. Then, in the 80's, Anthony Sr and Tom (sons), continued to build and expand Bellia where they founded the office furniture division. They started selling office furniture door to door, until they made their mark in the office furniture industry as an award-winning company.
Bellia Enterprises is now run by the third generation, grandsons, Anthony, Michael, Andrew and Sal, and is made up of two successful businesses, Bellia Print and Design and Bellia Office Furniture. The company has grown and expanded over the past 45 years, but remains steadfast in its ideals and principles of integrity, quality service, community involvement and providing a family atmosphere.
For more information on Bellia Enterprises please visit http://www.bellia.net/bellia-enterprises/