3 Ways To Motivate Your Employees Through Office Design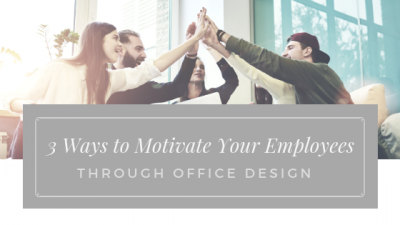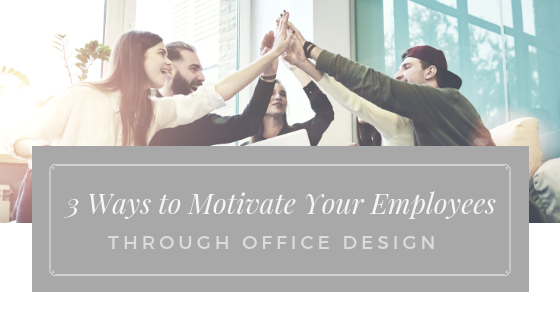 Most organizations are looking for ways to boost productivity and motivate their employees. A recent international survey of 10,000 workers by Ipsos found that 85% of employees are unhappy with their office environment. If you are feeling that your employees could use a little inspiration to increase their engagement in the jobs that they do, making a few updates to your space is a good place to start. Check out these three easy ways to boost productivity.
Implement Ergonomics
Did you know that providing an ergonomic environment can reduce fatigue and fuel productivity? When you implement proper ergonomics in your office, your employees will be more comfortable and relaxed while working. Furniture that is flexible, including sit-to-stand desks, adjustable chairs and ergonomic workstations will provide an environment that allows for your employees to work efficiently. By simply creating an environment where your employees feel comfortable will help inspire your staff–increasing their productivity and innovation.
Light Your Workspace
When possible, it is best to use as much natural lighting as possible. Take full advantage of your building's windows so that you can fill your space with natural light. When your employees are exposed to as much natural light as possible, it increases energy, improves concentration, decreases sick days and even help improve sleep. If your space doesn't have ample natural light or if it is windowless, there are still ways to make interior lighting less harsh like implementing controls to manage brightness levels and installing task lighting at workstations.
Room Color
When you choose the right colors for your workspace, you can create a more productive and inspirational environment. Because colors have an effect on our moods and brain function, the colors you choose for your space can evoke physical and emotional responses from your employees. For example, studies have shown that shades of blue can increase productivity. A few easy ways to do this is by repainting just one wall, adding colorful accessories or hanging artwork with that include the specific color that you want in your space.
Are you ready to make some changes around your space that will motivate, inspire and boost productivity in your employees? Give Bellia a call today for a free 30 minute consultation. Let us help you be inspired!