Designing Educational Spaces For Connection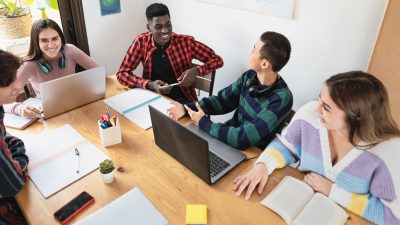 The pandemic has not only changed how K-12 and higher education buildings and spaces are designed and is also drawing great attention to the fact that students thrive when they're able to socialize and connect with others. Collaboration and social interaction have become crucial pillars in this new environment and will continue to be as the pandemic wanes.
It's no surprise that more and more educational institutions are focusing on spaces that can support such needs. Examples of connection space needs include:
More communal spaces for students to connect in person
Providing easily cleanable surfaces and materials that can stand up to heavy duty cleaning
Dedicated media and wellness spaces and accessible and inviting outdoor spaces
Flexible multi-use floor plans and furniture layouts that support various activities and gatherings
A recent article from Haworth® (see link below) further discusses the need for students to feel like they belong. As teenagers enter adulthood, it's important for them to feel valued and included which further increases their performance in school. As a result, collaborative spaces are being designed for connection, collaboration, and flexibility.
The Bellia team, has over 50 years of combined experience in working with k-12 and higher education facilities on a number of collaborative and open plan design projects. For educational institutions at every level, the goal is to encourage collaboration and connection in its student body, through a customized furniture solution, while providing every single individual a sense of belonging.
Are Your Ready To Design Your Connection Based Educational Space?
With our extensive experience, the Bellia team can design the perfect educational space for connection in your facility – whether starting from scratch or simply updating your existing facility's open spaces, we'll be with you every step of the way. Reach out to us today to request a space evaluation and get started creating new and inviting spaces for your students!
Source: https://www.haworth.com/na/en/spark/articles/2022/q1/places-where-students-feel-they-belong.html