Design Trends in Higher Education Facilities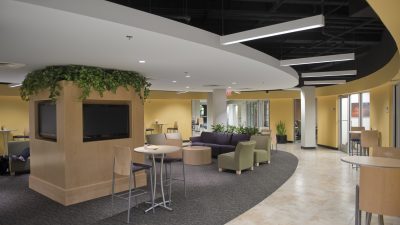 The competition among universities to attract top students is tremendous, and institutions of higher learning are continually seeking all sorts of ways to make their schools more attractive. According to this article from the Haworth blog, design trends in higher education facilities are creating whole new spaces and upgrading their existing ones, and adding a whole new dimension and incentive for attracting the best young minds.
The article notes seven design elements that students find appealing: the first impression; allowing for collaboration; mobile technology for remote work; flexible classrooms; space to allow focus; bright and comfortable spaces; and space to stretch out and relax. In each of these areas, schools have found ways to improve their furniture arrangements and make the most of their spaces.
The advancement of technology has created a wealth of opportunities, and working and collaborating remotely is among the foremost of those. The article cites an excellent example from the Donald W. Maine College of Business at Davenport University, where a hub is set up with ideal social space design. The space includes a coffee bar, tall tables with power and connectivity, three floors of enclaves, and a cloud-based platform for collaboration.
Another example is the Watt Family Collaboration Center at Clemson University, which made imaginative use of corridors to allow students to use the connectivity outlets and their laptops to work together in a lounge-type spot. The area is Wi-Fi accessible and creates an easily accessed space for gathering.
Take Advantage of Education Facilities Design Trends!
Does your school have a space you aren't using to maximum effectiveness? Are you looking to improve a lobby, lounge, or study space to attract students? The professionals at Bellia Office Design are experts in design trends in higher education facilities. Reach out to us today to get started…we can help turn your space into something your students and faculty will love!