Workspaces That Inspire Innovation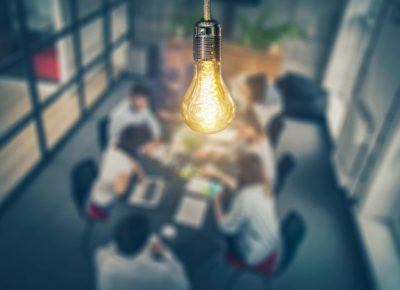 In today's ultra-competitive environment, organizations have become more focused on the creative process and the value of workspaces that inspire innovation. It's no longer enough to supply desks and cubicles along with a break room and a microwave. For a team to be able to conceive better ideas and collaborate effectively, there needs to be an all-around focus on these activities in their office environment.
This excellent whitepaper from Haworth® goes into details about the needs of team members on several levels…their need for privacy and ability to engage in undistracted focus at whatever level is needed, meeting and gathering spaces to share ideas, and an accessible space with window views to help effectively restore their energy. In today's office design, spaces for both intense focus and cognitive restoration should be strategically placed for ideal productivity and innovation.
Your workspace should provide space for both privacy and collaboration, as well as space that allows team members to reduce project times and improve your services. Different organizations have different needs, and what works for one company may not work for another. But in any workplace where innovation is key, it's important for a work environment to enable both peak creative performance and allows for restoration, along with a seamless transition between the two.
Bellia Office Design is not just a recognized vendor of Haworth® modernized office products. We are also dedicated to workspaces that inspire innovation, and creating an office space that is comfortable and inviting and ultimately improves your bottom line. We offer a free work and space evaluation where we can show you how your space can be best arranged to maximize productivity and creativity.
Let Bellia help you to redesign your workspace to maximize the creative talents of your team. Contact us today or request your free work and space evaluation here. We can help you and your team love the space you're in!