Social Spaces: The Third Space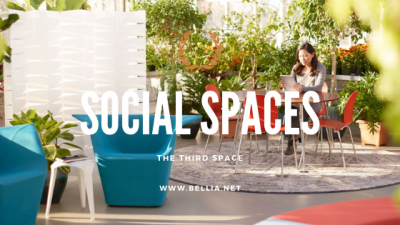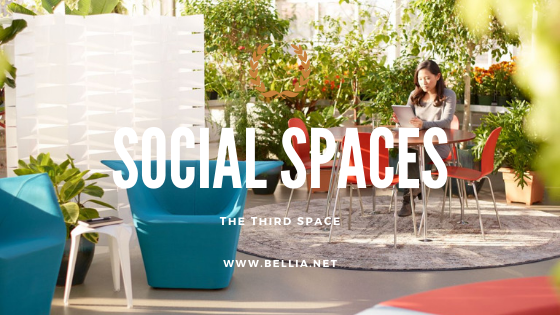 If you had to take a guess, which part of your office would you say has become the most important space for your employees? You may have said the kitchen, a breakout space or maybe a lounge area, which makes total sense that your employees are choosing to meet, work, socialize in one of the those spaces. In the last decade, businesses have realized that social spaces are becoming the area in your office where your employees are doing their best work.
The Third Space
In the past, offices were filled with cubicles, that left workers feeling isolated. As offices started to incorporate more open spaces into their design, they understood the need to include social spaces for their employees. The idea of creating social spaces in the workplace originated from the idea of the third space. The third space was once considered the place between home and office, like a coffee shop, where employees would go to get away from the confines of their workspace, to sit comfortably, have a cup of coffee, socialize and work. In the past, the third space was a place outside the office, but now employers are beginning to invest in including these types of spaces right in their offices, and the response from employees has been positive.
What Makes a Good Social Space?
Comfort. The comforts of home have a huge impact on corporate office fit outs. Furniture such as high-backed sofas and lush carpeted areas are perfect for business lounges. For example, if your space currently has a kitchen area, incorporating comfortable seating will transform it from a place to simply sit and eat lunch to a lounge where innovation and collaboration abounds and employees can sit back and relax.
Flexibility. A good social space is a multi-purpose one. If designed correctly, any space can be one where employees eat, get coffee, meet informally, have trainings or give presentations. When considering the design of your social space, it is important to have a keen understanding about how your employees work and what they need to work best.
Integrated Technology. A social space needs to have integrated technology in order for it to be a desirable space for your employees. It is important to have access to power and quick, reliable WiFI. Many companies are now including other technologies such as wireless presentation systems to create an easy way for employees and clients to work efficiently and easily.
Are you ready to add a social space to your workspace? Bellia has extensive experience in creating spaces where employees thrive. Give us a call today for a free consultation!