Creating A Work From Anywhere Environment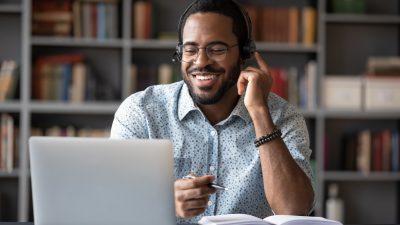 As the COVID-19 pandemic appears to finally be subsiding, the remote working environment has remained ongoing for many companies and people. Creating a work from anywhere environment, however, isn't just as simple as providing remote connections and cloud services to employees. The best performers on your team need to be able to effectively collaborate and share ideas, and be able to resolve conflict in an environment where they aren't face to face with customers or each other.
The Key To The "Work From Anywhere" Environment
This recent article on the Haworth website discusses this need, and reviews what is important regarding collaboration in a work from anywhere environment. Specifically, the article touches on "High Performing Teams" (abbreviated to HPTs)…individuals with specialized skills that have goals of superior results throughout the organization.
The need to furnish HPTs with high impact technology and tools for problem solving is particularly important. A company's HPTs have a wide range of backgrounds and skill sets, and they may be partially or completely divided from each other by their physical location. Haworth offers a technology platform called Bluescape to assist employees in their collaboration, be it through setting up activities, assigning responsibilities, and following timelines.
Bluescape and other collaborative technology tools help to improve productivity and enable HPTs to work more efficiently, especially as the remote collaboration environment movement continues to grow. With the right tools in place, teams can better align their goals, and reduce the tension of problem solving.
The article also points out that companies wishing to implement collaborative technology should ensure that new technology offers sufficient advantages, encourage their leaders to advocate for the adoption of new tools, and allocate the needed resources to support the new technology.
Creating a work from anywhere environment, while obviously not an ideal or feasible goal for every company, is becoming a much more necessary part of doing business for companies hoping to attract top talent and present the best possible employee package. The key is ensuring that your top performers have all of the collaborative tools they need.
Do you need to reshape your office design for the future? Let the professionals at Bellia Office Design make it happen for you. Reach out to us today to tell us about your office design needs, and let us start you off with a free workspace evaluation!