Creating A Better Work Environment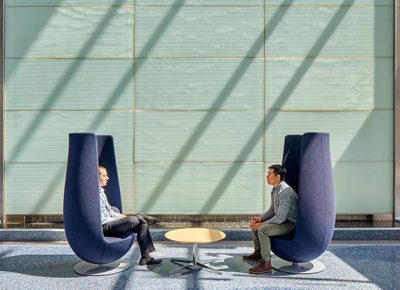 To stay ahead of your competition in today's world, creating a better work environment is essential to attracting and retaining top talent. Your bottom line benefits when your employees are happier, healthier, and encouraged by a well-designed business environment. Workspace design is a huge element of employee well-being, and can make all the difference in employee morale.
At Bellia, we are a licensed distributor of Haworth®, a cutting edge furniture design and manufacturing firm. We proudly partner with Haworth® for their innovation and research supported designs, including their continuing dedication to creating a better work environment in offices worldwide.
Haworth's® funding of recently compiled research includes information compiled by over 100 corporate leaders and experts, and has resulted in the book, The Healthy Workplace Nudge, How Healthy People, Culture and Buildings Lead to High Performance, by Dr. Michael O'Neill and Beck Johnson. In it, Dr. O'Neill states that wellness programs offered by companies today aren't working, and that employee well-being is far more of a function of workplace design than originally thought.
The findings show that both employees and employers benefit from a holistic point of view…one that supports psychological as well as physical comfort, physical wellness and cognitive function. The Healthy Workspace Nudge includes focus on how employees can be "nudged" towards healthier and stress-reducing behaviors. A better work environment goes beyond happier and more productive employees…it also places emphasis on reducing health problems, and subsequent absenteeism and healthcare costs for businesses.
To find out more about Haworth's® research findings and the impact of a healthy work environment, visit this page on Haworth's® website. If you'd like to find out how Bellia Office Design can create a better work environment for your organization, reach out to us today or click here for a free work and space evaluation. We can help you and your employees love the space you're in.