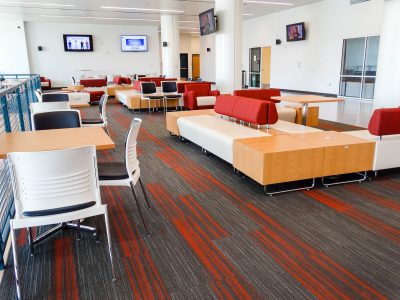 1 College Dr, Toms River, NJ 08754
Ocean County College's new Jon and Judith Larson Student Center aimed to:
Be innovative, encouraging it's students to think in the same mindset.
Be energy efficient in order to serve the environment.
Be a motivational, collaborative space for students to learn and succeed.
Bellia and Ocean County College worked together beautifully to bring this vision to life. The Lounge Area featured state of the art multimedia capabilities coupled with a collective seating plan to encourage conversation and modern ideas to flow. The Cafe and Coffee shop was designed with bright, modern accents, and is a place for students, faculty, and potential students to gather, refuel, and further their conversations. The project is sure to enhance the learning experience of each student.