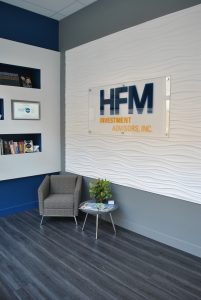 209 Rowan Blvd, Glassboro, NJ 08028
HFM, a financial planning firm located in the heart of Rowan Mainstreet, prides themselves on using academic research to help their clients reach their investment goals. They needed the look of their office to match their determination and success. Their Goals included::
Bold architecture and design to couple with the goals of the firm.
To make clients feel comfortable and confident in their choice to invest with HFM.
A refresh that left the team motivated to continue to make an impact on the world.
Together with Blackney Hayes Architects, Bellia was able to deliver this vision. We updated every area of the office, including reception, conference rooms, waiting areas, and executive offices, leaving a cohesiveness throughout. The curvilinear reception desk is a gorgeous focus point and sets the tone for the rest of the design features.