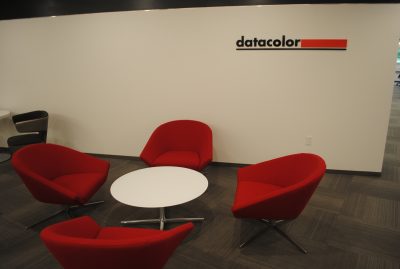 5 Princess Rd, Lawrenceville, NJ 08648
Bellia worked in collaboration with designer Francis Cauffman on doing a redesign for Datacolor that would transition their work methods to accomodate a shifting company culture. Datacolor was looking to:
Redesign their headquarters in Lawrenceville, NJ to allow for a more collaborative work method amongst their staff.
Still offer privacy for their team members when needed.
Update technology to make sure their team is allotted the most up to date methods for completing their work.
The design brought about open area workspaces by eliminating high panels in between desk and opening up larger, more private offices. This would allow for easier interactions between different departments. Quiet rooms were essential additions, as they allow for a slice of privacy in an otherwise open work environment. Informal meeting areas gave staff a place to meet and discuss projects that were less formal than a traditional conference room, taking the pressure out of the work, and ultimately improving project flow.