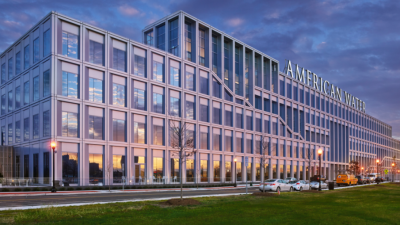 1 Water St, Camden, NJ 08102
When American Water decided to move their 700 employees to the Camden Waterfront for their New Jersey headquarters, they wanted to:
Create a space that would represent their commitment to the community
Publicize the importance in preserving the world's greatest resource…water.
The new five-story, 220,000 square foot, LEED Platinum building features a water reuse system, four-story water walls, LED lighting and solar shades and 18 water-filling stations. It also contains social spaces, an employee cafeteria, outdoor spaces, conference rooms, and a fitness center. The office was designed to embrace employee collaboration, productivity, and the landscape of the community. This was achieved by embracing the breathtaking views of the Delaware River and the Philadelphia skyline by creating an office that is nearly transparent. With glass-enclosed offices, the new headquarters allow both employees and residents of Camden to view the cityscape.